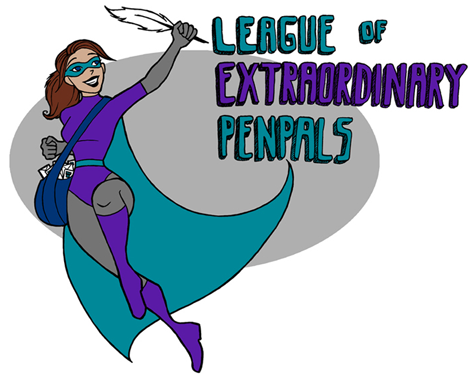 Swapping and penpalling are a little bit different, but snail mail lovers (like us!) often enjoy both… so, I think you will be excited about this new website and club I just discovered: The League of Extraordinary Penpals!
What is the LEP?
Basically, it's a penpal club that connects you with other extraordinary penpals. The LEP is a super collaboration between Laura aka Super Squirrel and Julie aka Super Sushi, and they need awesome penpals like you to join their ranks!
What do I get for joining the LEP?
In addition to being part of a club that has the word "extraordinary" in the title, the LEP offers a monthly newsletter that contains all of the below in every issue:
Printable – Snail mail challenge – Organized swap – Giveaway – Superhero-themed interview with an extraordinary LEP member – Article on a topic of interest – Featured snail mail related website – Access to a private stationery subscription service – The chance to receive a letter or a card from your LEP hostesses – The chance to be featured as our monthly extraordinary LEP member, which includes an awesome superhero portrait by Ciara Kay – Also, there will be a LEP-themed letter set that will be available only to LEP members!
What does membership cost?
You can find the LEP membership prices here. If you sign up before February 1st (this Friday!) you can get a special new subscriber rate!
Giveaway!
To celebrate their launch, Laura & Julie are giving away a six-month LEP membership to one luck Swap-botter! To enter, answer the following question in the comments before Friday, February 8th:
What would be your superhero name?
Make sure to include your Swap-bot username with your comment. A winner will be randomly drawn and announced on Monday, February 11th. Good luck!