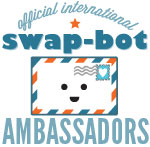 The new Ambassador program has just begun and I am excited to introduce each of the participants individually over the next few weeks. They are all enthusiastic, fun, active Swap-bot members who all have 5.0 ratings and who have all been members for more than a year. They are asked to help promote Swap-bot in their local communities and to be active, positive members of the 'bot.
————
Say hello to our first Ambassador, mariadastrouxas!
Ambassador Region: Portugal
Her packaging design Pinterest portfolio: www.anaisabelmorais.com
How mariadastrouxas found Swap-bot: "Once I searched on google for international swaps and I found the website www.lettersets.com. On that website I contacted a portuguese swapper and she recommended the Swap-bot forum. When I checked it out, I never let it go."
Why she enjoys Swap-bot: "It's so much fun. It's such as a fantastic feeling when you receive a package from someone you don't know physically but they spent their time to send you items you may like. It's wonderful. I learned so many things about cultures from around the world, without traveling. It's beautiful and true!"
Her favorite type of swap: "I prefer private Type 3 swaps (food, toiletries and stationary), usually large packages decorated with different postage stamps and calligraphies (mail art packages). For private swaps I can choose partners with a profile like mine so it's more personal than public ones."
Note from Rachel: mariadastrouxas is an amazing mail artist! Her packages are incredibly detailed and colorful, and she packages everything in ingenious ways! I have been very lucky to receive two of her beautiful packages in the past, including the one seen below.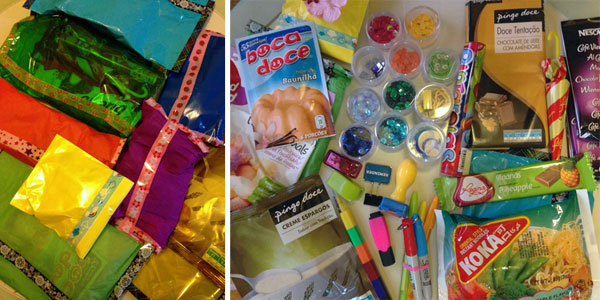 Interesting facts about mariadastrouxas: "Before I found swap-bot, when I was a child, I remember a School Program, an exchange connecting my (Portuguese) school and an international school. Some children swapped a shoe box with cute things and supplies we didn't have in Portugal. I wasn't selected to be a part of that experience, but I never forgot it because I would have loved to be in that program."
"In middle school, my english school teacher told me about a Penpalling Program. The whole class wrote letters to English children, but i never received a reply. I was a kid and felt so sad about not receiving any response. Much later I registered on Flickr (maybe 2003), made a profile, and did some swaps with Brazilian crafters. The packages from Brazil took a long time to arrive, one year at least!"
"When I went to university I forget the feeling of receiving snail mail because the lessons took so much time and effort, and I had to move from my home to study, so it was difficult to manage the mail in other addresses. After I started working I finally had more money and I registered on a Portuguese forum for free mail stuff and I received so much cool snail mail, like coupons and cinema tickets, but it was only suitable for Portuguese people and not so creative."
"When i meet swap-bot, my life changed! There are so much creative persons and different cultures. I hope to continue swapping for my entire life!"
————
I hope you liked our first Ambassador interview and introduction. If you are interested in swapping high quality mail art packages of goodies, mariadastrouxas would make an excellent partner! Contact her via the Swap-bot message system if you are interested.