Holiday Glitter GIVEAWAY!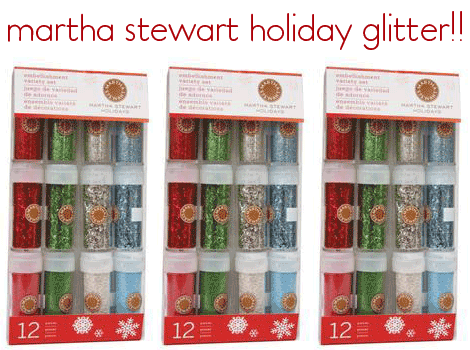 It is holiday giveaway time! I have three awesome sets to send to three lucky winners. I love Martha's glitter (find out how much ) and these sets have a great variety of normal super-fine glitter, tinsel glitter, and glass microbead glitter – all in beautiful holiday colors. So sparkly!
So, how do you win one of these fab glitter sets? It is easy. Simply, spread the word about all of the winter and holiday swaps taking place on Swap-bot right now. Post on your blog or twitter account about a swap that you are participating in (or just one that you think others might be interested in), then make a comment on this post that includes your Swap-bot username and a link to your tweet or post about Swap-bot. Your comment here will enter you in the random drawing for one of the glitter sets.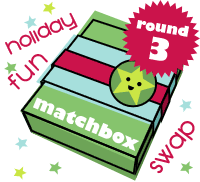 Feel free to link to my new international swap, the , in your post or tweet. I want it to be a super-huge swap, so invite all of your friends! However, technically you do not need to post about a holiday swap to enter this drawing – any post about Swap-bot will do. Make sure to link back to Swap-bot in some way in your post. We want attract more quality swappers who may not know about Swap-bot or have been reluctant to try out swapping on our site.
More quality swappers = more swapping fun!
Giveaways Rules: Make sure to include your Swap-bot username and a link to your post about Swap-bot in your comment or your entry will not be counted. Each person can only enter this giveaway drawing one time. The deadline for entering this giveaway is Saturday, November 28th. The winners will be randomly drawn and announced on Sunday, November 29th. If you have trouble commenting on the blog, you can send me an email with your entry to rachel [at] swap-bot.com. Good luck!
UPDATE: If you do not have a Twitter account, website, or blog, you can enter the drawing by telling us one way you have spread the word about Swap-bot, whether in person or via email, facebook, etc… I want everyone to have a chance to enter this fun giveaway! We rely on our great members to promote Swap-bot to other fun, crafty peeps. We don't have much money for marketing, so we really appreciate it any time you tell a friend about swapping on the 'bot. Thank you!