weekly featured swap: Your Creative Space!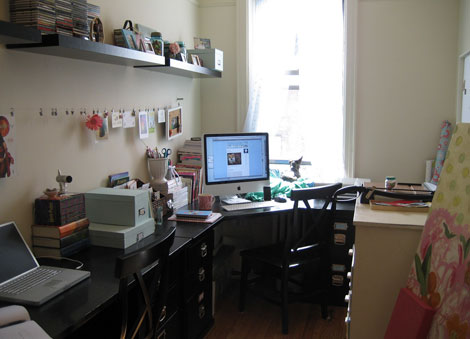 I don't often feature "Type 1: Electronic" swaps as the weekly swap, but there are some great ones out there in the Swap-bot universe! So, this week I am featuring , an email swap hosted by . For the swap, you will email two photos of your own creative space (your office, craft corner, art studio, etc) with a description to each of your five partners. (Above is a photo of my office space – on a clean day – where I do all of my working and crafting.)
More instructions from the swap description:
"Please include a brief summary of what we'll see, features you're proud of, why exactely you need your cat sleeping in that exact place, procrastination devices we might spy 😉 … and please tell us what you're doing there – writing, crafting, woodwork, alienating significant others, developing world domination plans…"
It is an easy email swap, but I always find it fascinating to see where other people create! New users are welcome in the swap, but everyone must have a completed profile and zero no-sends. The sign up date is coming up quickly on Monday, July 5th, so if you want to share your creative space with your fellow swappers!