support good cause = get Swap-bot swag!
Some of you may already know that I (racheljohnson, your loyal Swap-bot owner, admin, blogger, and all-around, behind-the-scenes gal) am training for the New York City Marathon with Team in Training. I trained for and ran a marathon with TNT exactly 10 years ago, so this is a special anniversary for me. I love TNT – it is such a supportive and fun organization – and and I am proud to be raising money for The Leukemia & Lymphoma Society. The goal of the LLS is to find a cure for all blood cancers and to support patients and their families while they are fighting the diseases.
While I was brainstorming ways I could fundraise, Swap-bot swag kept popping into my head. Many Swap-bot members have requested a way to buy Swap-bot postcards, stickers, and buttons in the past and the opportunity has not been available while we are still working to construct an official site store. BUT, now is your chance!!! You can "purchase" a special Swap-bot swag package by donating to The Leukemia & Lymphoma Society via my TNT Fundraising page. Get cute Swap-bot stuff and support a good cause! Sweet!
I will mail the following pack of items to anyone who donates $5 or more via my TNT Fundraising page:
7 Ernie the Envie postcards
2 "Love Snail Mail" postcards
1 original Swap-bot postcard – these are in limited supply!
4 Swap-bot 1″ buttons – 2 of each style
3 two-inch square Swap-bot stickers
Donate Now!</a></p>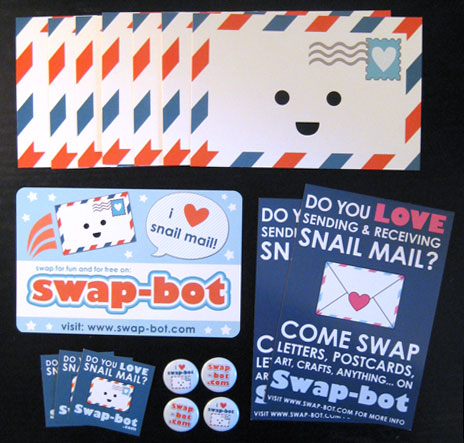 Please make sure to donate via my personal TNT Fundraising page. I am alerted each time a donation is made, and I will quickly assemble a Swap-bot Swag Pack just for you! (A few wonderful Swap-bot friends have already donated, and of course, they will also be receiving a pack.)
Let me know if you have any questions. Thanks for your support!!