"I Love My Library" swap & project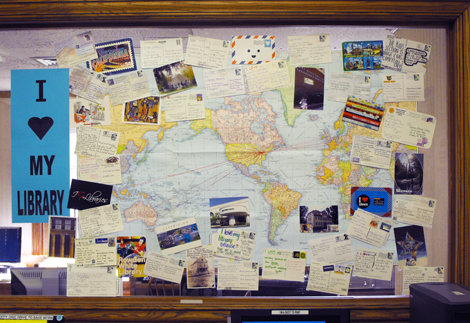 It is always exciting to see how our members utilize Swap-bot in unique ways!
Swap-bot user, Rainbowlicker, hosted a fantastic swap last month that combined postcard swapping with an appreciation project at her local library. In the I Love My Library swap, we each sent a postcard to our one partner describing why we love our local library. Then, we each ALSO sent a postcard with a similar sentiment to the Aurora Memorial Library in Ohio. Rainbowlicker is a librarian there and she used the postcards from the 60+ swap participants to create the display shown above. (Check out Ernie at the top! yay!)
Here is her description of why she wanted to complete this project:
"As a librarian and avid reader, I do not know where I would be without mine. With the recent downturn in the economy libraries were hit especially hard so I think it is time to show them some love! …I want to show our children and patrons how much people from all over love their library!"
Libraries are such amazing community resources. (I used to work at my local library in high school and it helped me discover countless new books and authors.) I am thrilled that Swap-bot could help make this library appreciation project possible!