weekly featured swap: Art History ATC #1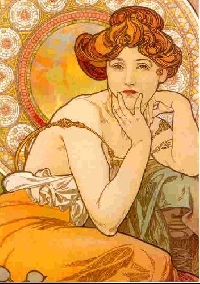 Art history was always may favorite subject in school, so this week's featured swap caught my eye!
If you enjoy art history you should join the Art History ATC Swap hosted by tyttoastronautti. The swap is the first in what hopes to be a series of art history-inspired swaps. Each swap in the series will be inspired by a different period in art history, the first one being Art Nouveau.
Art Nouveau is an international movement and style of art that was most popular at the turn of the 20th century. It is characterized by organic, especially floral and other plant-inspired motifs, as well as highly stylized, flowing curvilinear forms. Artists include Alphonse Mucha, Louis Comfort Tiffany, and Gustav Klimt, among many others.
The Art History ATC Swap is international and each participant makes one art nouveau ATC for their one partner. You must have completed at least three mail swaps and have a 4.8 rating, or higher, to join. Sign up before October 30th.