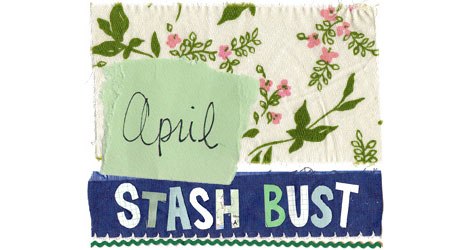 It's that time of year again… It is April Stash Bust Season!!
Join the second annual April Stash Bust Swap! This stash busting swap is extremely easy and such a great way to reduce the amount of lovely, but neglected craft items hanging around our craft rooms. Why not give your unused supplies a new shot at life by sending them to your swap partner? And, in return you will receive an envelope full of inspiring and new-to-you supplies from your partner — It's win-win! Reduce your stash and freshen up your stash all in one fun swap!
The April Stash Bust Swap is international and open to new and experienced members alike. Sign up closes on Earth Day, April 22nd. Each participant will then send a 6 x 9 inch, or larger, envelope full of craft supplies – like pretty paper scraps, fabric, yarn, ribbon, stickers, felt, embellishments, etc – to their one swap partner by the end of the month. Easy peasy! Sign up now!

As part of the April Stash Bust festivities, Dollar Store Crafts is hosting a stashbusting challenge! Apply to be an official stashbuster on the Dollar Store Crafts blog TODAY (before April 7th) for your chance to receive one of ten, free stash packages. The ten recipients will then make one craft with their new supplies and share it on the Dollar Store Crafts blog.
Even if you don't win one of the official stashbusting packages, everyone can participate in the April Stash Bust. Let's all share and use our leftover craft supplies. Share pictures of your creations in the April Stash Bust Flickr group. And grab a little badge for your website to show that you are participating.
How are you busting your stash this month?