weekly swap: Fun with Mug Rugs!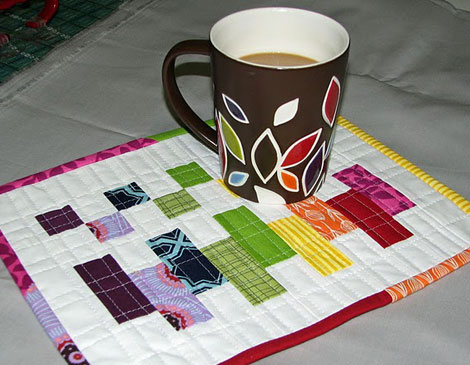 What is a mug rug? A mug rug is a cross between a coaster and a placemat. It is a handy thing to have on your desk as a place to set your coffee/tea and a little snack. Often mug rugs are quilted (like the one seen above from Sew Fantastic) and they are good way to use up fabric scraps, but I've also seen them woven.
Are you a fiber or fabric crafter who wants to try out this quick, new craft? Join the Fun with Mug Rugs swap! The international swap is being hosted by theprincessr. For the swap you make one 5 x 7 inch mug rug for your one partner. All swappers must be experienced and have over a 4.7 rating. Join the swap before this Saturday, July 16th.
For mug rug inspiration, check out these great quilting sites:
If you've made a mug rug before, please share a link to a photo in the comments!