BlogHer Handmade GIVEAWAY
You already know that I was at the BlogHer Handmade and Creative Connection conference last week. The three-day event was packed with classes, keynotes, tutorials, and a handmade marketplace. We heard from Holly Becker of decor8, Christina Ferrare, Jo Packham, publisher of Where Women Create, Stacy Julian of Big Picture Classes, and many more accomplished, smart women. My favorite class was Inspiration Boards taught by Leslie Shewring of A Creative Mint.
It was an inspiring and informative event, and it was great to meet in person some of the women I have been following online. It is motivating to see so many creative women starting their own businesses. (If you'd like to read more about the conference, I am in the process of putting together a full recap on my personal blog.)
Now, on to the GIVEAWAY!!
One of the reasons that many people love these creative conferences is because you come home with lots and lots of swag. The Creative Connection was no different. At nearly every meal we were given a little gift from one of the sponsors and publishers were there giving away free copies of their magazines and books.
You, my lovely Swap-bot users, are always in the forefront of my mind, so I made sure to grab a few extra items when I could. I was planning this giveaway from the beginning and I think I collected a great prize pack… one lucky winner will receive the following bundle of goodies:
Whew… that is a long list of items! Wouldn't you love to win it all?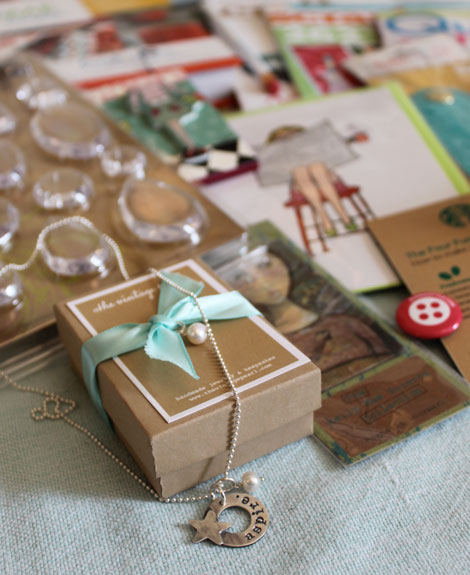 I'm making this giveaway extremely simple. Just comment on this blog post to be entered in the drawing. In your comment please include your Swap-bot username and your answer to this question:
What swaps or crafts are you doing to get in the mood for fall?
You must be a Swap-bot member to enter this giveaway. Each individual can only enter once. The giveaway will be open for entry until September 30th. I will randomly pick and announce the winner on October 3rd. Good luck!